Foster announces major investments in NI Dairy sector
10 March, 2010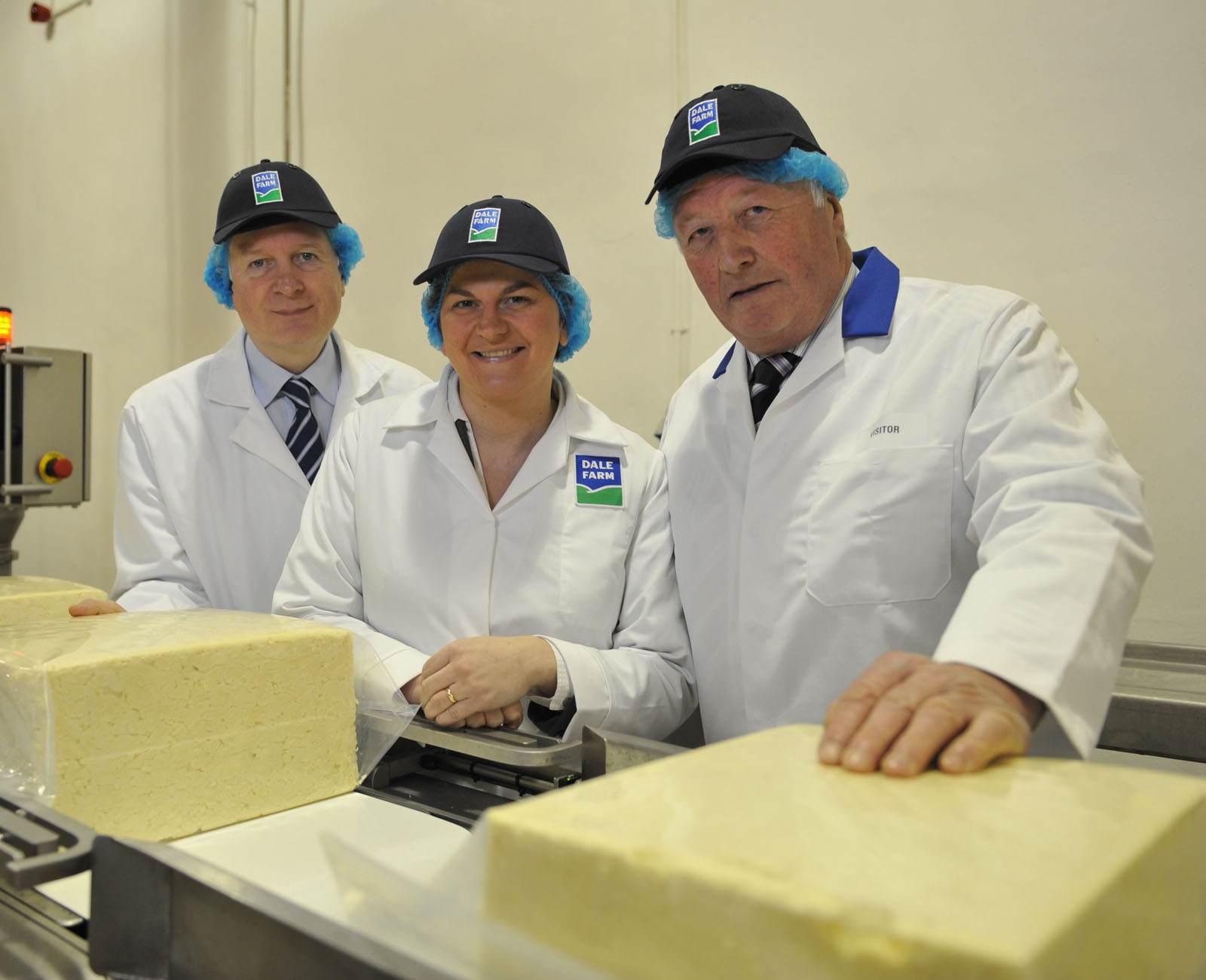 Enterprise Minister Arlene Foster has announced two investments, totalling £39million, which will benefit the Northern Ireland, dairy processing industry.
The projects were announced as the Minister visited Dale Farm's facility at Dunmanbridge near Cookstown, where she officially opened a £5million state of the art cheddar cheese making facility.

A £36million investment by Dale Farm, supported by Invest Northern Ireland will allow Dale Farm to develop its local dairy processing activities and grow sales of existing and new products outside Northern Ireland.

The investment will create 43 new jobs and safeguard the employment of 215 existing jobs out of Dale Farm's 400-strong workforce, thereby creating and safeguarding average annual salaries of £7.9million. It will stimulate growth in external sales by £37.5million per annum over the next four years.

This is the largest investment undertaken by a locally owned dairy processor and it is also the highest amount of support offered by Invest NI to the dairy sector.

In addition, Nampak Plastics, a leading plastic milk bottle manufacturer from the UK, is to invest £3.25million in a new bottle in-plant facility, at Dale Farm's Pennybridge site, in Ballymena.

Also supported by Invest NI, with part funding from the European Regional Development Fund, the project will create at least 17 manufacturing positions and allow Nampak bottles to be used by Dale Farm immediately after manufacture, significantly enhancing Dale Farm's operational efficiencies as it meets growing export demand. The partnership will also allow Nampak to develop sales in the Republic of Ireland market with its range of plastic bottle products.

Arlene Foster said: "This £36million investment by Dale Farm is of strategic importance not only to the company but also to the dairy sector. It will give the company the capability to increase exports and the potential to process new and innovative products to meet the ever changing demands of customers and consumers.

"In addition, the decision by Nampak Plastics to invest in a new milk bottle in-plant facility will bring benefits to Dale Farm, Nampak and the wider dairy sector. Nampak is one of Europe's largest manufacturers of rigid containers to the food and drink industry. Its plant in Ballymena will see the largest liquid milk in-plant blow-moulding facility in Northern Ireland and the Republic of Ireland. This new base will help Nampak explore its export opportunities.

The Minister continued: "Both investments are a vote of confidence in the future of both the dairy industry and the agri-food sector by everyone involved. The Dale Farm project will benefit dairy farmers and rural communities across Northern Ireland, as the company currently processes over 20% of local milk output.

"My Department and Invest NI are also committed to the successful future of the Northern Ireland agri-food industry and the Invest NI support offered towards both projects is testament to this."

The Dale Farm investment will benefit Dale Farm's three processing plants at Dunmanbridge, Cookstown and at Pennybridge and Cullybackey, both near Ballymena.

David Dobbin, Dale Farm's Group Chief Executive said: "This major investment programme will help us to successfully compete in more added value dairy categories and to further develop our capability to supply major retailers and foodservice and ingredients customers in Great Britain and the Republic of Ireland.

"Overall, the investment will provide the best in class capability and economies of scale that we need to compete more effectively against major international competitors. It will enable us to consolidate our position in existing markets and to develop new opportunities."

Jamie Tinsley, Sales Director, Nampak Plastics, added: "This collaboration marks a very positive and exciting step for Nampak, Dale Farm and the wider dairy industry in Northern Ireland. Locating the bottle manufacturing and filling in one location removes the need to transport the bottles between two sites, dramatically cutting transportation costs and the associated carbon emissions."

The £5million state of the art cheddar cheese making facility which was opened by the Minister is the first phase of the £36million investment project and will have an annual capacity of up to 50,000 tonnes of cheese and a new whey ultrafiltration facility.