Foster announces new jobs at Bite Group in Enniskillen
30 May, 2012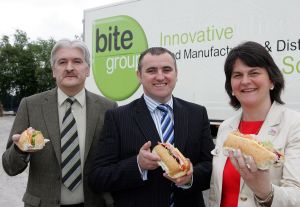 Enterprise Minister Arlene Foster today announced that Bite Group in Enniskillen has won new export business that will lead to 23 new jobs in Fermanagh.
The new business, worth around £3million, will see the company increase production and distribution of its premium quality convenience foods throughout the Republic of Ireland and also in Northern Ireland. The new jobs will be at supervisory and management levels.
Arlene Foster announced the contract during a visit to Bite Group's state-of-the-art production operation near Enniskillen.
The Minister said: "The new business secured by Bite Group is a great endorsement of its professionalism, capability and commitment to quality in products and services to its rapidly developing portfolio of customers. It consolidates their standing as a market leader in the preparation and production of premium quality convenience food.
"The company, which recruits locally, currently contributes around £1.5million in salaries and wages annually to the economy in Fermanagh. Bite Group's success will also benefit local suppliers that provide the company with ingredients.
"Over recent years the company has invested extensively in its processing, marketing and distribution operations. These new contracts are a powerful recognition that Bite Group can now offer a total food solution to both existing and potential clients. This is based on their ability to create, package and distribute premium food whenever and wherever required."
Mr Keogh said: "Winning this new business a tremendous boost for the company and positions us for further and faster growth in the UK and Republic of Ireland. We are now firmly established as the largest and most successful manufacturer and distributor of private label snack and convenience products on the island of Ireland.
"What is also strategically important for us is that the new business enhances our position substantially in an immensely important market outside Northern Ireland. While we have been operating in the Republic for some time through our depots in Dublin, Cork and Galway, the new business moves us on to another level.
"We worked very closely with the new customer in the development of products to their requirements and also in other key areas such as packaging and distribution."