Foster announces £1m deal for Muldoon Transport Systems in Saudi Arabia
23 January, 2012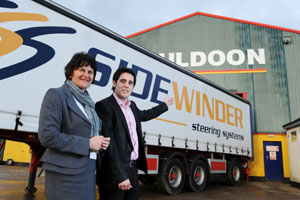 Enterprise Minister Arlene Foster has announced that Muldoon Transport Systems in Dungannon has won a £1 million contract to make trailers for one of Saudi Arabia's biggest businesses.
The Minister announced the contract between Muldoon and Almarai in Riyadh for 19 bespoke trailers during a visit to the Tyrone company. Muldoon is among 25 Northern Ireland companies on the week-long Invest Northern Ireland mission to Saudi Arabia, from 20-25 January.
The Minister said: "Winning business from Almarai, among the most successful and influential companies in the Middle East agri-food industry, is an exceptional achievement for Muldoon Transport and positions this Tyrone engineering business for further growth in the Saudi marketplace.
"The contract is a further demonstration of just how competitive Northern Ireland companies, especially smaller businesses like Muldoon Transport Systems, can be when they invest the time and other essential resources to explore the substantial business opportunities still growing strongly in global markets such as Saudi Arabia.
"Muldoon's longstanding commitment to innovation and a strong customer focus have also enhanced its competitiveness and enable the business to respond quickly and effectively to the specific requirements of customers.
"Assisting local companies, both large and small, to compete successfully in global markets through innovation and export marketing are essential features of the recently launched Invest NI Boosting Business campaign.
"Our objective is to encourage many more companies to look beyond markets currently experiencing difficulties and to grasp the opportunities to be found in regions such as Saudi Arabia, India and Brazil. To assist them in these markets, we've strengthened our trade development support services in the Middle East, Asia and Brazil."
Justin Muldoon, a Director of Muldoon Transport Systems, said: "This is an immensely important contract for us and followed an initial approach from Almarai to see if we would be interested in working with them on the development of a trailer to their specifications that included an innovative loading system. We jumped at the opportunity to work with such a prestigious company even though it was in a market that we didn't know much about and had not done business there before.
"Almarai was aware of our expertise in trailer design and manufacture and keen to do business with us. A positive and quick response from us led to discussions about the type of trailer they required and to the contract to make 19 for them. We were able to respond quickly to Almarai's requirements because of our longstanding focus on R&D, which has increased our flexibility in the markets in which we operate. Our precision engineering operation also enables us to produce all the components and parts required in-house and thereby ensures consistent quality.
"We recognised that we needed advice about business procedures and turned to Invest NI for guidance. Staff in Belfast and Saudi Arabia were extremely supportive and helped us in key areas including arranging visas and other essential paperwork. This support made doing business there much easier.
"We will be supplying the trailers to the Almarai poultry business in Hail, near Riyadh. They will be used to transport poultry from the company's network of farms to the new processing plant, a £1 billion investment and one of the biggest and most modern of its kind in the Middle East."