Foster congratulates Lisburn company on export success
21 August, 2013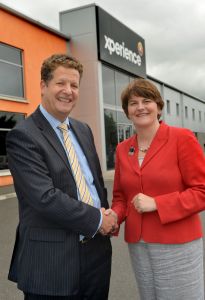 Enterprise Minister Arlene Foster has congratulated Lisburn-based IT specialists, the Xperience Group, on recent export successes and growth through acquisitions.
During a visit to the company the Minister heard how the Xperience Group has won new contracts worth over £100,000 within the construction industry in Glasgow and London.
The company has grown significantly over the last few years through acquisitions and now employs around 90 staff in Lisburn, Peterborough and a recently opened Glasgow office.
Arlene Foster said: "Xperience has taken a strategic approach to building key areas of expertise and successfully establishing itself as an expert IT provider within the UK marketplace.
"In achieving this it has been supported by Invest Northern Ireland which helped it to develop a three-year growth strategy, improve the skills of its employees and strengthen its technical infrastructure.
"The company's latest export success is the result of it developing innovative software modules targeted at the construction and service sectors and proves that opportunities do exist for ambitious and focused local businesses."
Xperience provides a range of computer hardware and software solutions, and is a reseller of financial and Enterprise Resource Planning (ERP) software products. It also provides technical support services. The Minister was welcomed to the Lisburn site by Patrick Leggett, Director of Xperience.
Commenting on the company's recent success he said: "We have a clear and targeted approach to growing our business through new technologies and have developed specific core software applications and cloud computing expertise.
"The role that technology plays within the administration and efficiency of any business is set to rise and we want to significantly increase our share of this market across these islands."