Foster Launches Programmes to Boost Fermanagh Business
13 December, 2013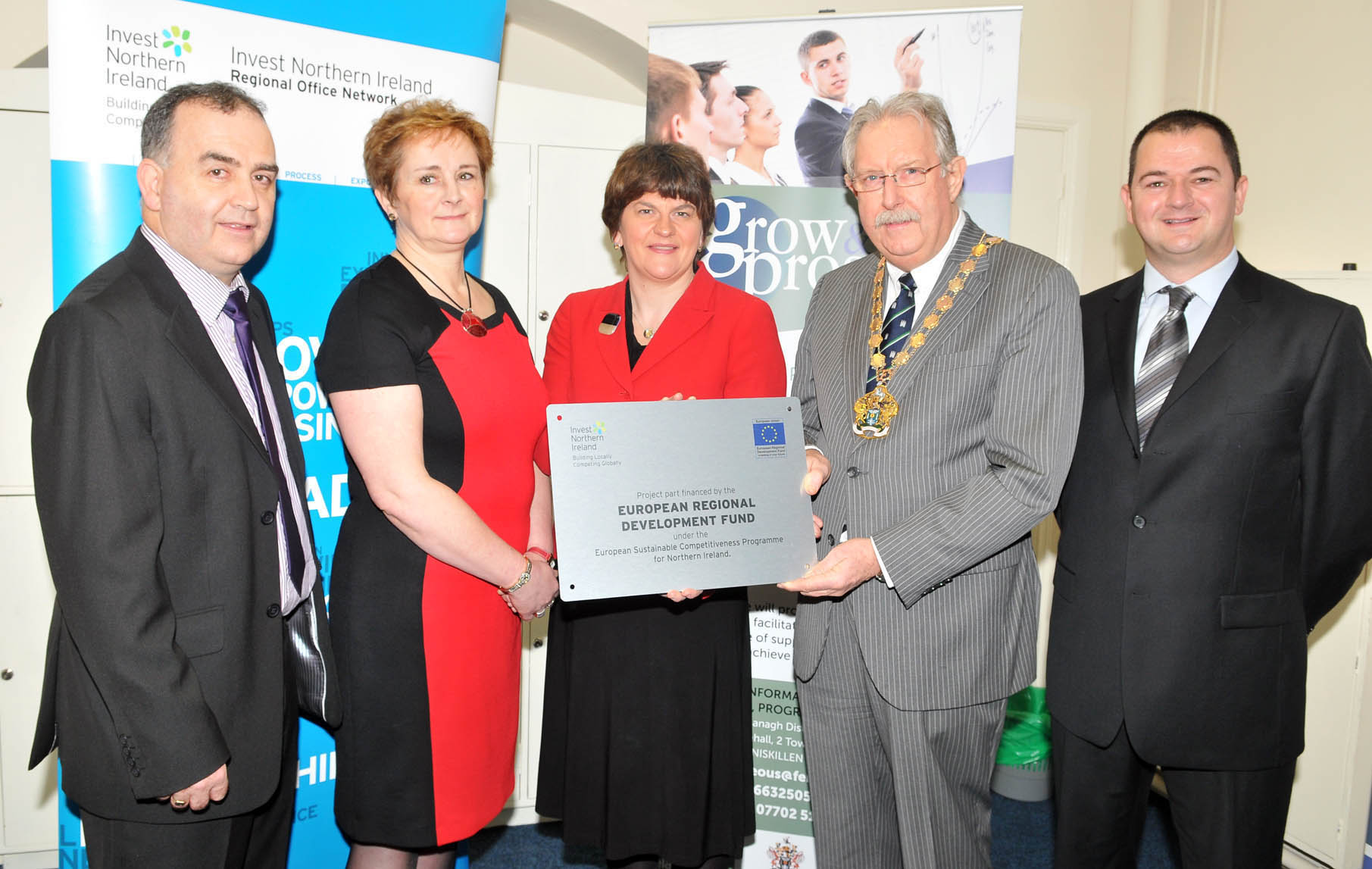 Fermanagh's business base will be enhanced by two new economic development programmes, Enterprise, Trade and Investment Minister Arlene Foster has said.
The Minister was speaking as she launched the 'Grow and Prosper' and 'First Stop Shop' programmes.
Grow and Prosper will provide 30 micro businesses, those with fewer than 10 staff, with a tailored package of mentoring, workshops and networking opportunities. It will also help businesses develop a growth plan that will provide focus and direction.
First Stop Shop will target up to 650 businesses in the wider business community to provide advice, signposting and information to help develop business ideas.
Launching the programmes, Arlene Foster said: "The Grow and Prosper and First Stop Shop programmes are good news for local businesses and for the wider economy. Small businesses are the backbone of the Northern Ireland economy and they will play a vital role in rebuilding and rebalancing it. Nurturing them and ensuring they get all the support and guidance they need is of the utmost importance.
"What is especially valuable about the programmes is that they have been tailored to meet the specific needs of businesses in Fermanagh. I am determined to make sure that everyone involved in economic development works together to create the conditions which will help hundreds of small businesses to grow and succeed.
"The Grow and Prosper and First Stop Shop programmes are examples of this joined-up approach in action and I firmly believe that they will deliver real benefits to Fermanagh."
The programmes are the result of collaboration between Fermanagh District Council and Invest NI to develop locally focussed initiatives that complement the support already available and follow on from the success of other Local Economic Development (LED) initiatives which have proven to be very popular among Fermanagh businesses. The initiatives bring the total investment so far in LED programmes in Fermanagh to almost £500,000.
Fermanagh District Council Chairman, Councillor Alex Baird, said: "Growth and prosperity are what every business aspires to and as we step forward into the New Year, it is entirely appropriate that Fermanagh District Council makes support available to our local entrepreneurs. As with all the Council's Business Support solutions, 'Grow and Prosper' and the 'First Stop Shop' will be client focused."
The programmes are funded by Invest Northern Ireland under the LED Measure of the EU Sustainable Competitiveness Programme, which is part funded by the European Regional Development Fund and which supports innovation, R&D and entrepreneurship.