Foster meets Caterpillar vice president
25 September, 2012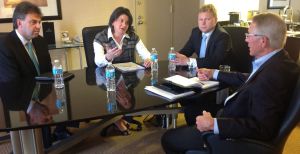 Enterprise Minister Arlene Foster has met with Bill Rohner, vice president of Caterpillar's Electric Power Division to discuss the way ahead following the company's recent redundancy announcement.
The Minister, who was accompanied by Invest NI Chief Executive Alastair Hamilton and Assembly Private Secretary Alastair Ross, said the meeting had been useful.
Arlene Foster said: "I felt it was important to meet with Bill Rohner while I was in the US to discuss the company's recent decision in more detail and to identify any opportunities to mitigate job losses.
"Invest Northern Ireland has been working with management to build its capability to focus on higher added-value activities and identify and exploit new business opportunities.
"During the meeting, Alastair Hamilton and I outlined the support available in a number of areas, including Research & Development and training. We also wanted to identify if there are other functions within the group's global operations which could competitively be serviced from a Northern Ireland base.
"Potential options were discussed, and Invest NI will continue to work closely with Caterpillar to explore them."