Foster welcomes R&D-driven jobs boost at Glen Dimplex
09 April, 2013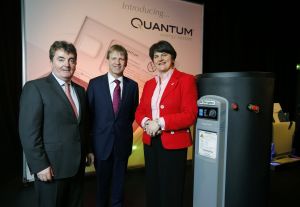 Enterprise Minister Arlene Foster has commended the Glen Dimplex Group's continued investment in research and development which has led to the creation of 37 jobs.
Glen Dimplex is a world leader in the development of electrical heating products. The Minister was speaking at the launch of the company's new Quantum Energy System. The new Quantum system was developed by Glen Dimplex subsidiary Seagoe Technologies, with a £2million direct investment in the project.
Invest NI has offered £157,000 to support the R&D project, which includes part funding from the European Regional Development Fund and an additional £195,000 to support capital investment and the associated creation of the new jobs.
Arlene Foster said: "This is a very significant investment by the Glen Dimplex Group in Northern Ireland and one which will help to increase the company's already strong position in international markets, with a new and highly advanced space and water heating solution.
"Through its subsidiaries, Glen Electric and Seagoe Technologies, there is a strong emphasis on R&D which has helped the Glen Dimplex Group to remain a global market leader.
"The creation of 37 advanced manufacturing jobs is welcome news for the sector and will help to deliver an additional £500,000 annually in salaries into the local economy.
"All manufacturing of the new product for global distribution will take place in Portadown which is an important development for the manufacturing sector and a clear demonstration of how investment in R&D can help companies to develop and maintain a competitive advantage."
The Quantum Energy System is a unique and efficient heat storage system that can be programmed to fit the lifestyles of end-users thanks to intelligent controls. It also offers the potential for energy savings and associated reduction in home heating bills.
Neil Stewart, Managing Director of Glen Dimplex in Northern Ireland, said: "Quantum is a ground-breaking technology that we've been working on for two years. We are incredibly proud that this unique technology was driven by the R&D department here in Northern Ireland, with the help of our colleagues in Dunleer. We see it as a real game-changer in the future of Glen Dimplex as we, and society in general, strive to create a more sustainable future.
"Quantum offers consumers up to 25% cost savings through accurate comfort temperature control and efficient heat storage."