'Going Dutch' Pays Off for Moira Firm
18 December, 2015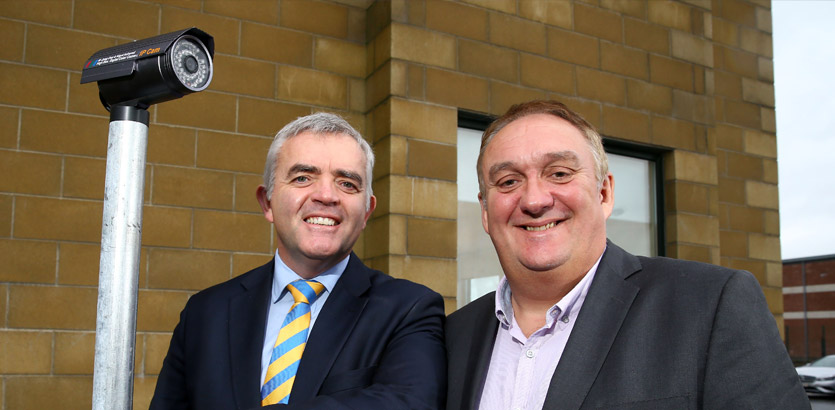 Enterprise, Trade and Investment Minister Jonathan Bell has announced a significant partnership deal in the Netherlands for Moira company Sensurity.
Sensurity has teamed up with Hexta, a distributor in the Netherlands, in a deal to sell its HALO and Vigil microwave perimeter detection products in the Dutch market.
Welcoming the deal, Jonathan Bell said: "This is an immensely important partnership which will allow Sensurity to make significant strides in securing new business in The Netherlands.
"Sensurity first met with Hexta when they took part in Invest Northern Ireland's 'Going Dutch' programme, which is an integral part of the drive to help companies focus on exports for sustainable business growth.
"The Netherlands is a good market for newcomers to exporting or companies with limited experience overseas to gain the experience and confidence they need to succeed outside Northern Ireland.
"This new partnership is a further example of the scale of opportunities in the Netherlands for Northern Ireland companies who are prepared to invest in growth in global markets."
Andrew Fulton, CEO of Sensurity said "The Netherlands is a market that we've been targeting for some time as part of our export development strategy and we are delighted to have secured this breakthrough partnership with Hexta, and to be able to celebrate our first deal in the Netherlands.
"The Going Dutch Programme gave us the unique opportunity to showcase our fantastic products to buyers and in turn has opened many doors for us. It enabled us to visit the market, meet a large number of targeted representatives who were there to see our product and benefit from expert advice and practical in-market support.
"We believe that Hexta is a perfect fit for a partnership in terms of size, experience in our sector and the knowledge the company has of the Dutch market. I am confident that a substantial amount of business will follow from this partnership."
The Moira company was among a group of five companies from Northern Ireland to take part in the Going Dutch programme in December 2014, organised by Invest NI.