Hamilton welcomes P2V Systems' IT growth in Lisburn
30 August, 2016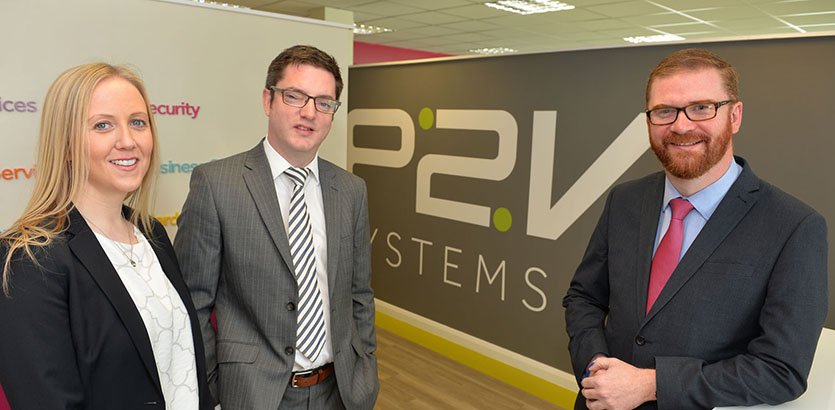 Economy Minister Simon Hamilton has welcomed the growth of Lisburn based firm P2V Systems who plan to double its workforce by 2018 with support from Invest Northern Ireland.
P2V Systems provide IT services to public and private sector businesses, helping them operate more efficiently and cost effectively.
Commending the company on their growth plans the Minister said: "P2V Systems has established robust business partnerships with BT, HP and others and delivered exemplary services to customers on behalf of these partners. The company is determined to take the business to the next level and the creation of these 14 new positions will facilitate its growth and expansion strategy.
"With an average salary of £35,000, the new roles will provide opportunities for IT consultants, account managers, business development managers and marketing executives and will generate nearly half a million pounds in additional salaries to the Northern Ireland economy each year.
"Currently, 30% of the company's sales are generated outside Northern Ireland. With an enhanced workforce, P2V Systems will have the resources needed to secure the new business it has identified in its target markets."
Invest Northern Ireland has offered the company an employment grant of £98,100 towards the 14 new jobs, two of which are already in place.
Stephen McCann, MD of P2V Systems said: "Last year was very productive in winning new business and new customers and as a result our turnover has jumped by over 100%. We intend to capitalise on current opportunities within the GB market and these new positions will help us form a strong team to drive the business forward.
"The support we have received from Invest NI over the years has been vital to our growth. Growth in ROI and Great Britain is a core element of our plans and we are also looking to new markets after recent visits to Amsterdam, Dubai and Toronto."