Innovation brings two dairy companies together to grow business
28 February, 2012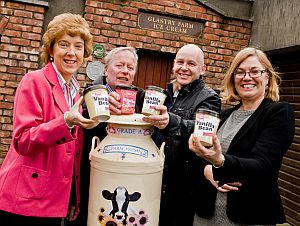 Kircubbin-based Glastry Farm Ice-Cream is being assisted by Invest Northern Ireland to develop an innovative product that will also bring business benefits to Clandeboye Estate Yoghurt in Bangor.
Glastry Farm, an award-winning producer of luxury ice-cream, is using an Invest NI Innovation Voucher to develop a new frozen yoghurt dessert ice-cream. Clandeboye Estate will provide the yoghurt for the new Glastry Farm product being developed to boost sales particularly outside Northern Ireland.
The Innovation Voucher for Glastry Farm Ice-Cream was announced by Tracy Meharg, Managing Director of Innovation and Capability Development Services, during a visit to the company's processing plant on the family farm in Co Down, where she was briefed about the new product by Will Taylor, Glastry's Managing Director, and Bryan Boggs, Clandeboye Estate Yoghurt General Manager.
Glastry Farm Ice-Cream is also using the voucher to draw on the expertise in food technology at Loughry Campus of the College of Agriculture, Food and Rural Enterprise (CAFRE) in Cookstown.
Mrs Meharg said: "This is an excellent example of how our Innovation Voucher scheme can be used to encourage collaboration between two small businesses and a local third-level college, CAFRE, in developing a new product to increase business.
"Both companies have already used the scheme successfully to work with technologists at Loughry on the development of innovative ice-cream, sorbets and yoghurts. Glastry and Clandeboye, of course, are both farm-based enterprises which are using milk from their own herds to create premium, handcrafted products with the quality and heritage that customers in both retail and foodservice sectors are increasingly demanding.
"An Innovation Voucher is a perfect first stage for smaller companies wishing to embed innovation in their business and thereby increase their ability to compete successfully and profitably especially in export markets.
"Over the past two years we've provided over 100 Innovation Vouchers to smaller food companies for a range of investment activities primarily for new product development," Mrs Meharg added.
Mr Taylor, who founded Glastry Farm Ice-Cream in 2007, said: "The very practical support that we've received from Loughry technologists through the Innovation Voucher has been exceptionally important in the development of the business. The expert advice has helped us develop new products and to bring these to market faster than would have been possible if we had been developing these products on our own.
"They have helped us to come up with unusual flavours, such as our Kilbeggan Whiskey Ice-Cream, which have enabled us to set ourselves apart in a very competitive marketplace. In addition, products like Kilbeggan have led to major national awards for quality and innovation from prestigious bodies such as the UK Guild of Fine Foods in its Great Taste Awards, achievements which have enhanced our standing as a producer of premium quality ice-cream.
"Overall, the vouchers have made it easier for us to invest in innovative products including the development of a new frozen yoghurt dessert ice-cream, the first artisan ice-cream of its type to be made in Northern Ireland and one which is already attracting considerable interest from both retailers and foodservice organisations," he added.
Mr Boggs said: "We are delighted that Glastry Farm Ice-Cream has chosen our natural yoghurt to develop the new product. It's a further endorsement of the outstanding quality and provenance of our yoghurts, which have also won UK Great Taste Awards.
"We've also used an Innovation Voucher to work with Loughry staff to grow our business successfully both here and in the Republic of Ireland through the development of a range of stirred yoghurts in flavours such as raspberry, strawberry and toffee and caramel."
Clandeboye Estate Yoghurt was also formed in 2007 using milk from the estate's award winning Holstein and Jersey herd. The introduction of the flavoured yoghurts contributed to a doubling of the company's turnover last year.