Invest NI helps award winning Newry business make its mark
15 October, 2013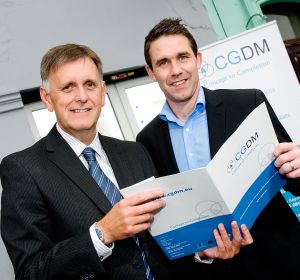 Newry based Cathal Grant Design & Management Ltd (CGDM) is celebrating increased export sales since establishing a property claims team last year.
Invest Northern Ireland offered the design and build company £19,000 of marketing assistance to help boost awareness of CGDM's insurance claim assessment service, and to support the recruitment of a new marketing manager. Following extensive marketing activities, CGDM has secured £190,000 of new business in the Republic of Ireland (RoI) during the last twelve months.
Mark Bleakney, Invest NI's Southern Regional Manager, said: "Cathal approached Invest NI last year requesting advice and assistance towards getting this new part of the business off the ground and has benefited from marketing support to help achieve this goal.
"Securing this valuable business in RoI during the past year is good news for the company and testament to its commitment to growth. CGDM's success received further recognition at the recent 2013 Greater Newry Business Awards where it won Best New Business and Best Young Entrepreneur."
Cathal Grant, Managing Director of CGDM, said: "Developing a comprehensive service for resolving property claims as a result of loss or damage has been very well received by our customers, particularly in RoI, and we are delighted with the uplift in export sales achieved as a result.
"The new venture has helped to elevate our business performance and the sales we've achieved since its introduction have exceeded our expectations. Since starting up the business, Invest NI has been an invaluable source of support and advice. Its assistance with the marketing of this service has made an important contribution to our success. We aim to build on this position over the coming months."
CGDM Property Claims offer an assessment service for customers which need to make an insurance claim for their property as a result of fire, flood, storm, or burglary damage. Its network of professional surveyors, engineers and skilled tradesmen oversee and carry out the required repairs. The team also negotiates with the customer's insurer and all other professionals on their behalf, including loss adjusters, brokers, surveyors, contractors and solicitors, to bring a claim to a successful conclusion.