Invest NI helps Lisburn company create 61 new jobs
07 February, 2013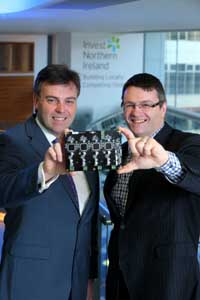 Lisburn company Seven Technologies has announced that it is creating up to 61 new high value jobs in an expansion supported by Invest Northern Ireland.
The company, which operates in the field of specialist Supervisory Control and Data Acquisition (SCADA) and Internet Protocol (IP) solutions, currently employs 53 having already filled nine of the new Invest NI assisted posts.
Invest NI has offered support of £854,000 for the new jobs, which will be in the areas of specialist engineering, manufacturing and administrative support.
Gavin Williamson, CEO of Seven Technologies, said: "This expansion will enable us to tender for more and bigger contracts, to increase our portfolio of products and services and to widen our customer base.
"We aim to significantly increase our turnover over the next two years. That growth will be accelerated by Invest NI's support, which is allowing us to quickly recruit the new staff we need."
Seven Technologies commenced trading in 2005 and has grown rapidly since then, doubling sales in the last two years. It specialises in designing, developing and manufacturing SCADA products. Recently the company has seen further significant growth driven by export success.
Invest NI's Chief Executive Alastair Hamilton, welcomed the investment. He said: "Seven Technologies has demonstrated impressive sales growth to date and is primed for further growth. It has a strong management team, which is crucial to business success, and a keen understanding of its niche market.
"The company has received a range of support from Invest NI over the last few years to help it refine and market its products. This latest support will help Seven Technologies to build on its recent success and in particular expand on its export business and position itself as a leading exponent of SCADA technology."