Invest Northern Ireland encourages businesses to adopt renewable sources of energy
28 March, 2013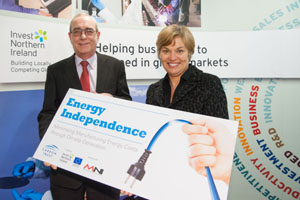 Invest Northern Ireland and Manufacturing NI have recently launched a guide to encourage companies to improve energy efficiency and consider adopting renewable energy technologies.
The publication, called Energy Independence, has been developed by Manufacturing NI and Carbon Trust with funding from Invest NI. It provides advice and information on reducing the cost of energy consumption through on-site generation of electricity or heat from renewable sources. It also provides details of government incentives that make investing in technology to generate renewable energy more attractive.
The launch of the guide coincided with the SustainEx conference in Belfast which showcased the latest technology in resource and energy efficiency and provides businesses with the opportunity to get guidance on reducing energy and resource costs. The event was organised by Sustainable Ireland magazine and sponsored by Invest NI.
Tracy Meharg, Invest NI's Executive Director of Business Solutions, said: "In a highly competitive market, maintaining operational costs at the lowest possible levels ensures businesses remain competitive and profits are maximised. We are working to help companies achieve cost savings in the consumption of water, energy and materials and, where appropriate invest in on-site heat or electricity generation technologies.
"This guide provides a helpful resource for local companies that are considering the transition to renewable energy sources whilst also reminding them that cost reduction can firstly be achieved through energy efficiency measures before any consideration is given to self-generation."
Bryan Gray, Chief Executive of Manufacturing NI, said: "We believe there is considerable scope for companies in Northern Ireland to take energy generation into their own hands and reduce their dependence on fossil fuels. By working with Invest NI we aim to promote greater energy independence among local businesses and at the same time achieve meaningful cost savings through energy efficiency."