Invest Northern Ireland is encouraging businesses to focus on efficiencies to boost performance
30 August, 2012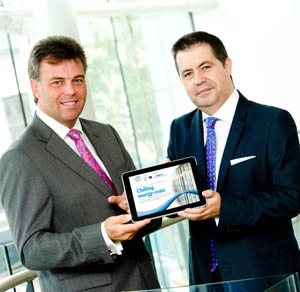 Invest Northern Ireland and the Northern Ireland Independent Retail Trade Association (NIIRTA) have launched a new guide aimed at helping retailers reduce energy costs.
The publication, called Chilling Energy Costs, was developed by NIIRTA and Carbon Trust and funded by Invest NI. It focuses on reducing refrigeration costs on which NIIRTA members currently spend £7.5 million a year.
Alastair Hamilton, Chief Executive of Invest NI said: "In a highly competitive market maintaining costs is an important consideration for every business. Keeping costs low ensures a business remains competitive and can drive up profit. This new guide provides helpful information for retailers on how they can reduce their energy spend and gives advice on what steps to take to make changes that will help make efficiency savings in their operations. It is a practical resource which we hope will help retailers reduce costs and increase profit margins.
"Invest NI offers a range of support to help businesses in Northern Ireland manage the use of energy, water and materials as efficiently as possible. We are working with NIIRTA, amongst others, to encourage businesses to take advantage of this support which will ultimately improve the competitiveness of Northern Ireland's wider business base."
To help local businesses increase their productivity and save money Invest NI has recently launched a new package of support as part of its Boosting Business campaign. Invest NI is offering advice and financial help, including capital grants and interest free loans, plus project management support. It is also hosting a workshop on resource efficiency for local retailers, wholesalers and suppliers on 18 October which will provide an opportunity for networking, sharing best practice and identifying collaborative opportunities.
NIIRTA represents the interests of over 1,300 independent retail members throughout Northern Ireland. Carbon Trust has been working with NIIRTA since 2010 to provide its members with advice and information on energy efficiency. It has also worked with a number of independently owned retail chains to deliver training to shop owners, managers and their staff on energy efficiency measures.
Glyn Roberts, NIIRTA Chief Executive, said: "In a climate of difficult trading conditions the importance of helping our members reduce costs by becoming more energy efficient is paramount. By working with Invest NI and the wider government through initiatives such as this, we aim to drive business growth and ensure the sustainable future for our retail sector."
For further information on Invest NI's resource efficiency workshop and how to get support contact Nigel McClelland, Sustainable Development Manager – 028 9069 8830 or nigel.mcclelland@investni.com.