"It pays to innovate" says award winning Limavady business
12 September, 2012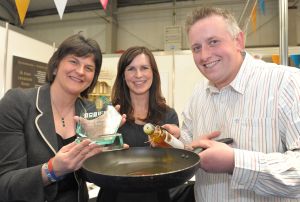 Broighter Gold in Limavady, which used an Invest Northern Ireland Innovation Voucher to develop a cold-pressed rapeseed oil for cooking, is realising the benefits of innovation as it wins award after award.
Formed last year as a farm diversification project by husband and wife team Richard and Leona Kane, Broighter Gold Rapeseed Oil has already gained the IFEX 2012 Gold Award for Best Product Packaging and Overall Product of the Show Award, competing against almost 100 products and services from Great Britain, Northern Ireland and the Republic of Ireland. It has also received a gold star at this year's UK Great Taste Awards.
The company contacted Invest NI for support to analyse the nutritional value of its cold-pressed rapeseed oil after it decided to diversify the natural product into premium cooking oil. Invest NI offered support through its Innovation Voucher programme which allows businesses to apply for a voucher worth up to £4000 to help with innovation projects. Companies can use the voucher to get help from one of 41 universities, colleges and other publicly funded research organisations throughout Northern Ireland and the Republic of Ireland.
Olive Hill, Invest NI's Director of Innovation and Technical said: "Broighter Gold used an Innovation Voucher to help it link up with the Agri-Food & Biosciences Institute (AFBI) experts in verifying the healthy benefits of the oil.
"The industry response to the product to date has been remarkable. Broighter Gold is an excellent example of our strategic focus on encouraging and assisting entrepreneurial companies to develop innovative products with significant export potential.
"The importance of the Innovation Voucher programme in helping businesses like Broighter Gold diversify and explore new opportunities is evident. In recognition of this we recently confirmed an additional £3.7million of funding for the programme over the next three years."
Leona Kane co-owner of Broighter Gold said: "The Innovation Voucher was immensely important in that it enabled us to access expert advice and guidance from AFBI.
"Rapeseed oil is being used increasingly by leading chefs as an alternative to olive oil because of its high Omega 3,6,9 and Vitamin E content, and also because it is probably the most versatile cooking oil and our customers want local produce and to know its provenance. Broighter Gold oil also has half the saturated fat of olive oil."
Chefs now using the oil in meal preparation include the team at the six-strong chain of Hastings Hotels, Northern Ireland's top hotel chain. The company is also supplying the oil to high-end restaurants in the Republic of Ireland.
Established in 2011, Broighter Gold is an artisan business based at Broglasco, the Kane family farm, in Myroe, near Limavady, on the edge of Lough Foyle just above sea level on reclaimed land. The arable farm covers 360 acres-120 are used to grow rapeseed. The fertile ground grows high yielding crops of wheat, barley, oilseed and potatoes.
In addition to the development of rapeseed oil, the company is planning to expand into industrial tourism by developing an exhibition centre which will enable visitors to show how the oil is produced.
Innovation Voucher applications will be invited in October 2012 and February 2013. Interested companies can find more information and details of how to apply at investni.com/innovation-vouchers.