Launch of MATRIX Life and Health Sciences Foresight Report
05 February, 2015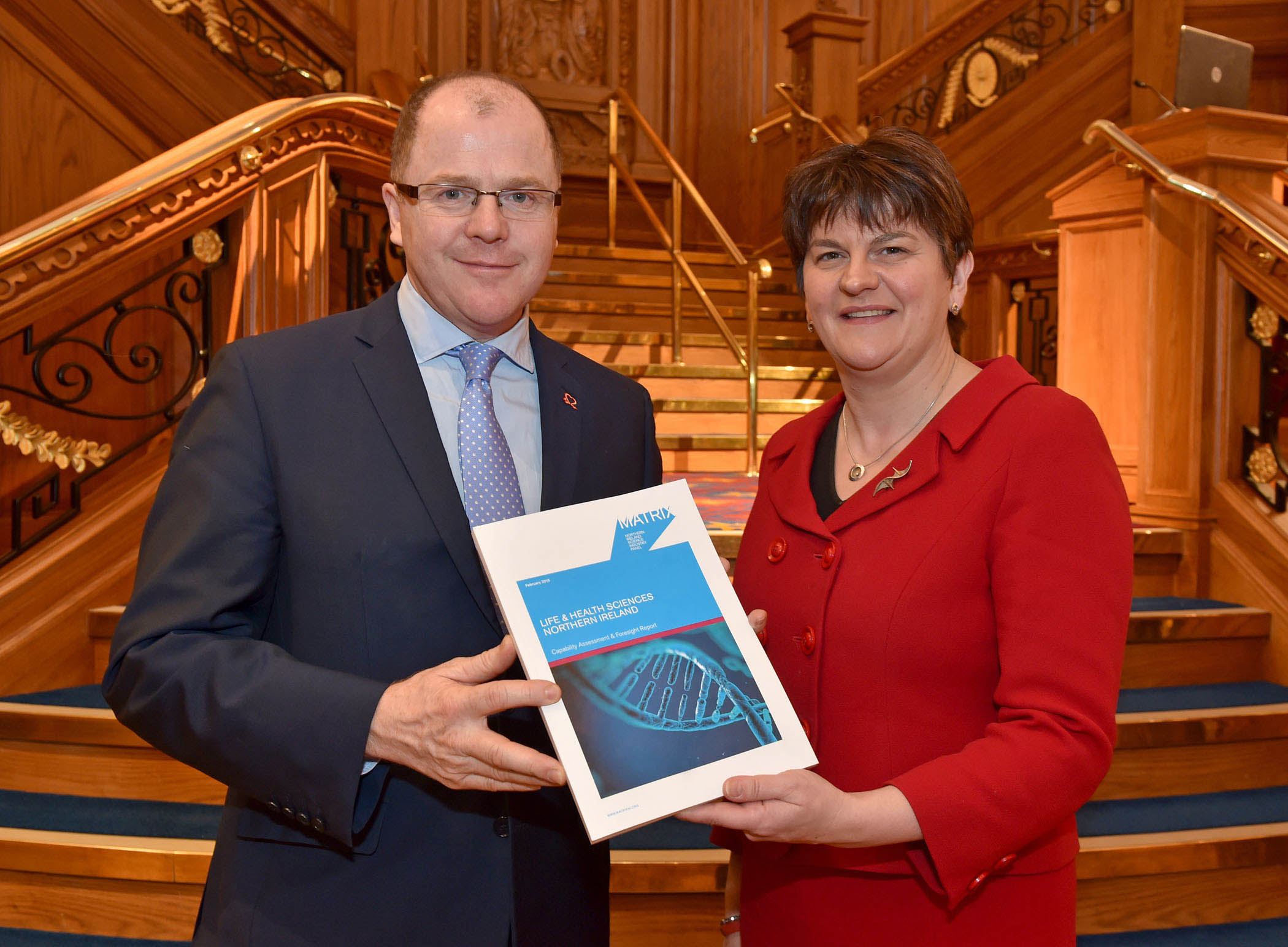 Enterprise, Trade and Investment Minister Arlene Foster has launched the MATRIX Life & Health Sciences Foresight report.
The report identifies the increasing need for more personalised healthcare and the impact that the growing ageing population will have on the way healthcare is delivered.
Speaking at the launch Arlene Foster said: "Life sciences have been recognised by the Northern Ireland Executive as one of the priority sectors in helping to drive the future growth of our economy. Currently this fast growing sector incorporates around 130 local businesses employing over 7500 people involved in areas such as diagnostics, data analytics, pharmaceuticals and e-health. It is generating sales worth about £800m a year and accounts for 10% of all Northern Ireland exports.
"The MATRIX Life & Health Sciences Foresight report outlines a real opportunity for the region to become a centre of excellence and attract foreign investment by investing in and supporting the life sciences sector both in government, business and academia. We know that we need a more 'joined up' approach to maximise the potential of the life and health sciences and I am delighted a pilot health, innovation and life sciences hub is about to be set up here in Northern Ireland to do just that. The recommendations contained within the report will now help inform a Life & Health Sciences Strategy for Northern Ireland, led jointly by my Department and the Department of Health."
Attending and speaking at the conference UK Life Sciences Minister George Freeman added: "The life sciences cluster is a Northern Ireland success story. With strengths in diagnostics and medical device innovations, the sector has grown in the region by 10 per cent in the last three years.
"I warmly welcome the activity highlighted by the MATRIX report where industry and Northern Ireland's leading universities are working collaboratively to develop better treatments and medical innovations for patients. This supports the approach endorsed by the industrial Strategy for UK Life Sciences.
"I am delighted to be in Belfast today to meet with life sciences stakeholders and find out how the local infrastructure can support the sector to drive growth and create jobs, and to visit the Centre for Cancer Research and Cell Biology at Queen's University, and the facility at Randox."
Commenting on the report Health Minister Jim Wells said: "Our health and care systems today are coping with the combined impacts of ageing populations; the rise of long term conditions; and tightening budgets. Faced with these overwhelming challenges, we have no choice but to make fundamental changes in how we deliver our health and care services. We need to be designing and delivering health and care services in a way which enables people to participate more fully in the management of their own healthcare needs; and to be maximising innovative approaches and use of technology. This is where the wider Life and Health Sciences sector can make an enormous contribution.
"Northern Ireland has a solid Health and Social Care research and development infrastructure, which works in close partnership with the Life and Health Sciences sector. We are determined to continue to seek fresh opportunities and we have recently consulted on a new Strategy for Health and Social Care Research and Development. Two particular initiatives we are progressing are the establishment of a Biomedical Research Centre in Northern Ireland and an application for Northern Ireland to be one of the 11 UK Genomic Medical Centres. Both these will put Northern Ireland to the fore in disease research and the development of new personalised treatments and medicines."
MATRIX Chairman Bryan Keating also commented: "The MATRIX Life & Health Sciences Report has been produced by a panel of life and health science business leaders and academics, who have worked hard to identify real opportunities for Northern Ireland's economic development which could also offer better value and higher quality healthcare. This could not come at a better time given the current pressures in healthcare and I hope that this report will help inform future health and economic strategy."