Life Sciences Sector Makes Significant Contribution to Local Economy
05 January, 2016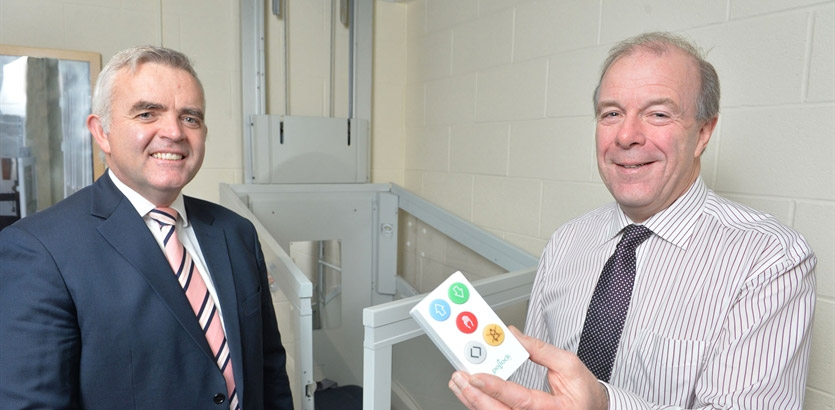 The Life Sciences are central in helping drive the future growth of Northern Ireland's economy was the message Enterprise Minister Jonathan Bell brought to Carrickfergus today.
The Minister was speaking as he visited Pollock Lifts who manufacture specialty mobility lifts for wheelchair and disabled access.
Minister Bell said: "The Life Sciences sector is strategically important to the Northern Ireland economy and is identified as one of the priority knowledge based sectors. One of the purposes of this sector is to improving the quality and standard of life for people. Pollock Lifts is a perfect example of such a company manufacturing, installing and servicing through-floor lifts for the elderly and people with disabilities.
"The Life Sciences sector currently comprises of over 130 companies, employing over 7,500 people and delivering exports of over £900million per annum. Pollock Lifts makes a valuable contribution to the Northern Ireland life sciences sector and the local economy and has experienced encouraging growth across both Great Britain and Europe in recent years. Working closely with Invest Northern Ireland they have boosted their competitiveness through the development of new products and marketing. It is through continuous improvement and innovation that they have been able to grow and I am sure this focus will be central to their continued success as they explore new markets within Singapore and Australia."
Saunders Graham, Managing Director at Pollock Lifts, added: "We operate in a growing marketplace given the world's ageing population and are committed to capitalising on this by further developing our customer base with new distributors and new customers in export markets.
"Invest NI's support with our R&D and marketing activities has enabled us to add an important product to our range. The feedback on our new steplift range has been very encouraging to date and this product certainly strengthens our offering as we target prospective customers in international markets."