Lisburn coffee roaster wins major business in Middle East
31 August, 2011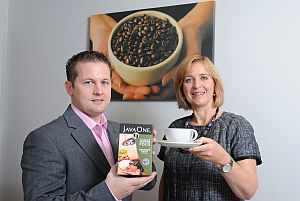 Pure Roast Coffee in Lisburn has won a £350,000 contract to supply almost two million coffee pods to Dubai-based Emirates Airline for its global network of business lounges, with assistance from Invest Northern Ireland.
The contract with Emirates, currently rated the world's best airline, is Pure Roast Coffee's biggest deal to date and follows an extensive marketing drive by the company which has received R&D support from Invest NI to develop an innovative portfolio of coffee pods.
The export deal in Dubai, where the Northern Ireland company now has an office and a distribution network throughout the Middle East, was announced by Martin Symington, Pure Roast Coffee's Managing Director, and welcomed by Carol Keery, Invest NI's Director of Innovation, Research and Technology.
Invest NI has offered the company R&D assistance of £36,780 towards total product development costs which includes part funding from the European Regional Development Fund.
Mrs Keery said: "This is a very encouraging and important contract for Pure Roast Coffee with a particularly prestigious customer. It is also an excellent example of how Invest NI R&D support can assist an export focused business to explore and develop opportunities for its products abroad, particularly smaller companies which have limited resources.
"Invest NI support has enabled Pure Roast Coffee to strengthen its product portfolio through the development of innovative products that it has identified to meet a market requirement. As a result, the company has been able to bring the new products to market quicker than if it had to depend entirely on its own resources.
"Pure Roast Coffee has recognised the importance of research and development in helping to differentiate itself from the competition and increase its market share in today's intensely competitive markets like the Middle East," she added.
Mr Symington, who has extensive experience in coffee roasting for food services, said: "Winning the business with Emirates is a tremendous boost for the company because it's our biggest single contract to date and is with a world leading customer.
"It gives us a very strong base in the United Arab Emirates and the wider Middle East, a dynamic and fiercely competitive marketplace that has been a prime target for us since the formation of the business. This focus has led to us developing a strong distribution channel in Dubai that is enabling us to access markets there and in regions of Asia.
"In addition, the contract with Emirates will see our pods used worldwide by business travellers who will be able to appreciate the quality of our coffee. Our pod business is growing rapidly and we anticipate producing over four million high quality coffee pods this year. We use the best coffee suppliers and also ensure a distinctively rich flavour by means of our convection air roasting equipment.
"Invest NI's support to expand our portfolio by developing a new range of coffee pods has been immensely important. The practical support and advice is enabling us to strengthen our offering to both existing and potential clients primarily outside Northern Ireland. This is strategically important because the focus of our business is now on export markets."