New mobile product keeps data access secure
17 October, 2013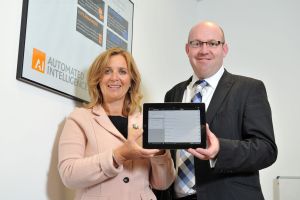 With support from Invest Northern Ireland, Belfast software company Automated Intelligence Ltd has developed a new application that enables workers to securely access organisational data via their mobile devices.
Automated Intelligence was set up in 2010 to develop products for the content management market. The new AI.MOBILE product provides improved mobile access to corporate information and is targeted at organisations whose employees work remotely.
Invest Northern Ireland has offered almost £50,000 of research and development support, part funded by the European Regional Development Fund, towards the company's overall investment of over £110,000.
Carol Keery, Invest NI's Director of Research and Development, said: "Automated Intelligence's focus on ongoing research and development has resulted in the development of a range of products. These are helping private and public sector organisations to analyse, manage and control access to their data, delivering a range of business benefits.
"AI.MOBILE was developed in response to market demand and completes the company's product portfolio. The products are applicable to systems worldwide and therefore present huge export opportunities for the company."
Mark Godfrey, Automated Intelligence's CEO, said: "People are increasingly using mobile devices as part of their working toolkit, as they are convenient and flexible. We recognised that there was a gap in the market for a product that would allow secure access, via a mobile device, to centrally held content.
"AI.Mobile enables an organisation to determine what data can be accessed through a mobile device, and how long the data can exist on the mobile application. It is designed to grant and control access to over 40 corporate content systems through a single control-centre and mobile application layer.
"The product is currently being piloted with existing customers including the British Red Cross. Our partners Fujitsu and Kainos are also actively promoting it as part of their offering.
"Providing secure mobile access to data completes our end-to-end solution for organisations allowing them to manage information through its full life-cycle, from creation to using it on any given platform," he added.