Online sales is the avenue for growth
16 October, 2015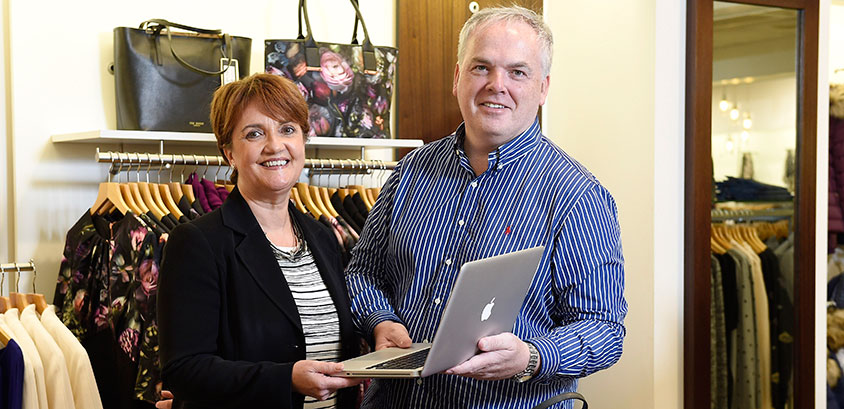 Furniture and Fashion businesses, Interiors HQ in Portadown and Excel Clothing in Newtownards, are maximising their online presence as a means to boosting sales across Great Britain and the Republic of Ireland. Both companies are benefitting from marketing support from Invest Northern Ireland to undertake development activities geared towards securing new export customers.
Excel Clothing will enhance its current website to feature a dedicated local phone number, Euro purchases prices and a next day delivery service to help drive sales in the Republic of Ireland. Invest NI is also supporting the company's marketing campaign which includes search engine optimisation, pay per click views, DVD production and online activities through blogging, social media and advertising.
Managing Director of Excel Clothing William Gilliland explains the company's strategy to gain a foothold on the RoI marketplace by focusing on E Commerce Marketing to achieve export growth.
Interiors HQ was established in April 2014 as a multi-channel E-commerce solution to distribute a range of furniture and home furnishings sourced from suppliers and manufacturers across UK and Ireland. Gus Murtagh from Interiors HQ explained:
"Invest NI's support has helped us optimise our new website platform to exploit Republic of Ireland sales and bring in expert consultancy to get our overall strategy correct from the outset. As well as in depth marketing clout which has delivered high return on investment already, we also launched targeted email marketing campaigns and google ad campaigns to drive traffic to our website."
With Invest NI £37,116 support towards the growth of the business, Interiors HQ has appointed Johnathan Forsythe as E-commerce Manager and an appointment for Data Administrator will be fulfilled in the near future.
Grainne McVeigh, Invest NI's Director of Consumer Products, said: "Interiors HQ is a valuable channel to help increase sales of local furniture and home furnishings outside Northern Ireland. The company worked with us to develop the software and benefited from support with installation and training. The two new jobs will be critical to helping them grow the business and ensure the website is professionally managed and maintained.
"Excel Clothing has also identified a growth area for the business and is focused on making the most of its competitive offering. Invest NI support is critical in enabling the business to fully implement its plans within a short timeframe."
Northern Ireland has a wide range of design and manufacturing based companies supplying textiles, clothing, furniture and giftware products to domestic and business customers.