Portstewart Caterer Aims to Bottle Flavours of Southeast Asia
22 June, 2010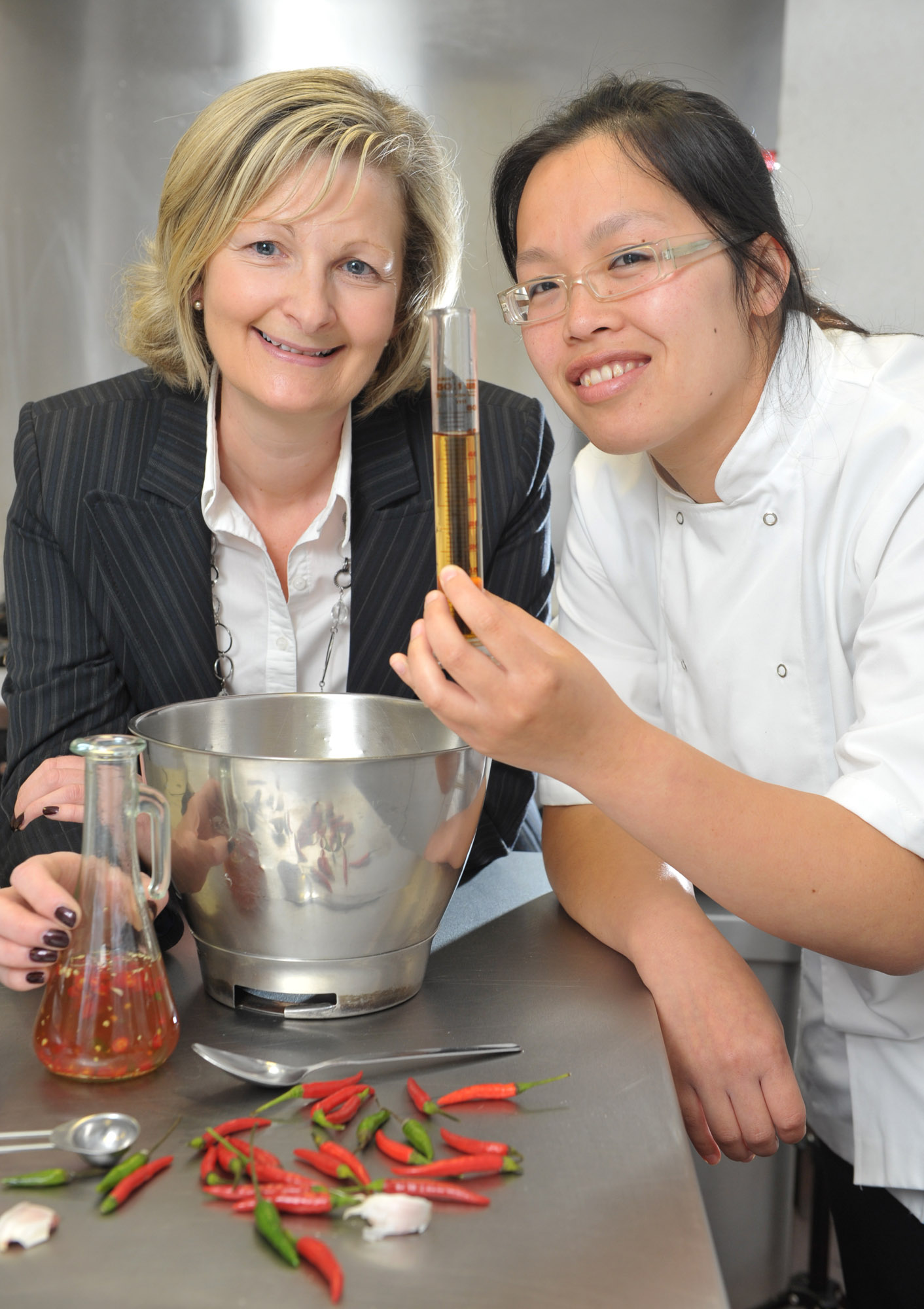 Claire Herron, Invest NI Innovation Vouchers Manager, with Thana Thammavongsa, founder of Whoosh. Invest NI is helping the Portstewart company launch a range of Asian sauces through the Innovation Vouchers scheme.
Whoosh, a successful Portstewart-based event catering business that specialises in Thai cuisine, has received an Invest Northern Ireland Innovation Voucher to help develop a new sauce product for the retail market here and outside Northern Ireland.
The company, formed in 2008 by Thana Thammavongsa, is aiming to build on the popularity of its versatile Thai sauces used at catering events across Northern Ireland by developing a range of Whoosh-branded products.
First in line is a distinctive chilli sauce currently being developed with assistance from the Food Incubation Unit at Loughry campus, Cookstown, part of the College of Agriculture and Rural Enterprise network.
The Invest NI Innovation Voucher scheme provides £4,000 to the company to assist with the costs of finalising the recipe, ensuring the shelf-life of the product, organising taste panels and guidance on how to scale up production for volume output and develop packaging.
Olive Hill, Invest NI's Director of Technology and Process Development, said: "Whoosh is a good example of how an Innovation Voucher can help a smaller company diversify into a different market and thereby grow its business.
"The voucher has enabled Whoosh to link up with CAFRE and to benefit from the experience of the college's expert staff and the ideal facilities for new product development there.
"The scheme was set up to encourage small companies to develop innovative solutions to business issues including the development of new products, techniques and processes. Whoosh is starting on a journey, assisted by Invest NI and Loughry, which could see the business reinventing itself as a food processing operation," she added.
The founder of Whoosh, Thana Thammavongsa, came to the University of Ulster from France to study languages in 1997 and subsequently saw a gap in the market for an event caterer offering a blend of Southeast Asian food especially from Thailand, Laos & Vietnam where her family is originally from.
Thana Thammavongsa said: "The Innovation Voucher has given me an opportunity to turn an idea into a different product line for my business. I had been using a number of sauces that I developed for various events across Northern Ireland.
"The feedback was extremely positive. People liked the distinctive and spicy Thai flavours and asked me where they could buy the sauces. I decided to come up with my own product range and approached Invest NI to see if I could get help to develop the chilli sauce. What sets the sauce apart is my use of only the most natural and healthy ingredients that ensure tasty, nutritious and high quality foods.
"Staff at Loughry have been tremendously encouraging and supportive. They've come up with a number of great ideas that are helping me to prepare the product for market. My objective is to have a portfolio of products that will appeal to consumers particularly in markets outside Northern Ireland."
Whoosh has developed a successful track record in providing Asian flavours to many private and corporate events, ranging from finger food buffets and fork buffets to 3-4 course meals for product launches, ceremonies, conferences, training courses, corporate events, private functions, dinner parties or weddings.