Sweet success as company doubles workforce
17 November, 2011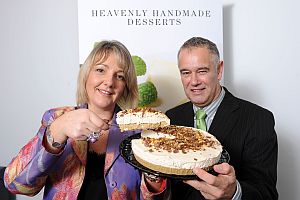 A Slice of Heaven in Newtownards, a manufacturer of hand-made desserts, has been assisted by Invest Northern Ireland to expand sales to Great Britain and the Republic of Ireland and to double its workforce.
The company, which has recently started to supply its fresh desserts to a distributor near London, is investing £31,150 to develop sales in a new business plan that has already led to six new jobs. Invest NI has provided assistance of £12,560 to help the company expand business outside Northern Ireland.
Assistance to the company, which now employs 12 people, was announced by Maynard Mawhinney, Invest NI's Food Director, during a visit to the company's premises at Ards Business Park.
Mr Mawhinney said: "Winning business in the highly competitive London area is an immensely encouraging and potentially very important development for the company. It shows that it has the type of quality and innovative products to enable it to compete successfully there.
"The new contracts in London and the Republic of Ireland give the business springboards for further growth in these markets in both short and long terms.
"A Slice of Heaven is working closely with our marketing advisers in Great Britain and the Republic of Ireland and has also benefited from our programmes in areas such as design, information technology and quality systems."
Heather Boyle, A Slice of Heaven's Managing Director, said: "As a result of recent marketing activities outside Northern Ireland, encouraged and supported by Invest NI, we are now supplying fresh cheesecakes and banoffee pies to high-end hotels, restaurants and other foodservice clients in London through a deal with Rajiv Tanna, a Harrow-based food distributor.
"We were approached by Tanna in April to see if we would be interested in supplying desserts to the London area. We sent samples over and subsequently signed a contract to provide a monthly consignment consisting of our range of cheesecakes and banoffees.
"The feedback from the distributor and his customers has been excellent. Our challenge now is to build on this business and to follow up inquiries from other potential customers in Britain. What we offer is a genuine artisan product that's handmade from only the best locally sourced ingredients.
"The deal in London and the success we are now enjoying throughout the Republic of Ireland, particularly in key centres such as Dublin, Cork and Galway, shows that our desserts are seen as offering quality at a competitive price point," she added.
Since exhibiting on the Invest NI stand at CATEX in February, the company has seen its business in the Republic of Ireland grow to more than 10 per cent of sales. To develop this business, the company has signed an agreement with Lynas Food Service, one of Ireland's largest independent frozen, chilled and ambient food service operations.
"Lynas Food Service is an excellent fit for us because the distributor has an extensive network in the Republic of Ireland and a sales team of almost 40 people. I've been working closely with the Lynas team, drawing on my experience gained in sales and marketing over almost 20 years," Ms Boyle added.
As a result of this agreement, the company is currently supplying cheesecakes, banoffees and other desserts to a variety of restaurant groups, sandwich bars, coffee chains, hotels, event caterers, independents and gastro pubs. It recently launched a gourmet cheesecake as a tasty and cost-effective alternative to the traditional multi-tiered cake for weddings.
In addition to cheesecakes and banoffee pies, A Slice of Heaven makes pavlovas, tray bakes, Tiramisu, chocolate brownies and cupcakes for customers in Northern Ireland and the Republic of Ireland.