US Investor aPriori Technologies Welcomed to Northern Ireland
05 December, 2016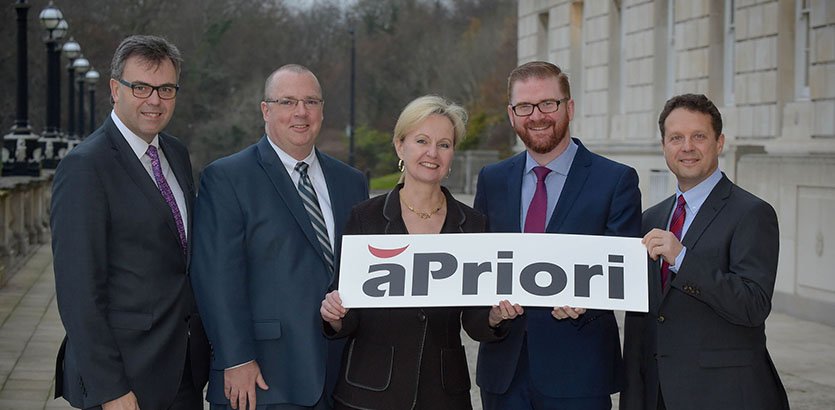 Economy Minister Simon Hamilton MLA has announced US business aPriori Technologies is establishing a 15 strong technology team in Belfast to support its growth.
Headquartered in Concord Massachusetts, the company offers major manufacturers software solutions which provide real-time insight into the manufacturability and cost of the products they develop. Its customers include The Boeing Company, Ford Motor Company, Honeywell, ThyssenKrupp and Tetra Pak.
The Minister said: "aPriori Technologies is an exciting and growing business with a global customer base. Its decision to establish a technical centre in Belfast is a unique investment which requires engineering and software expertise.
"The quality of research and teaching at Queen's University's School of Mechanical and Aerospace Engineering impressed us and we are confident that we can find the qualified technical staff we need among Northern Ireland's engineering talent base to support our growth plans." Stephanie Feraday, aPriori Technologies President and CEO
"The cost modelling software market is a specialised area and Northern Ireland's strong engineering heritage and world-class talent base of graduates with mechanical and aeronautical engineering expertise was central in helping secure this investment for Northern Ireland.
"Invest Northern Ireland has offered £97,500 to support recruitment with the positions including Implementation Engineers, Cost Modelers, Software Engineers and Quality Assurance Engineers. The 15 roles once in place will contribute £589,000 annually to the local economy and pay salaries well in excess of the private sector median."
Commenting on the investment, Stephanie Feraday, aPriori Technologies President and CEO said: "Cost modelling and implementation of product costing solutions requires particular expertise and with growing customer demands we realized the need to recruit more staff to support the company's continued development.
"Invest NI has been working with us over the past 16 months as we considered our options and its support with our investment was a significant factor in our decision to locate a new technical centre in Northern Ireland. The quality of research and teaching at Queen's University's School of Mechanical and Aerospace Engineering impressed us and we are confident that we can find the qualified technical staff we need among Northern Ireland's engineering talent base to support our growth plans."