Victoria College cooks up a storm in enterprise competition
13 December, 2012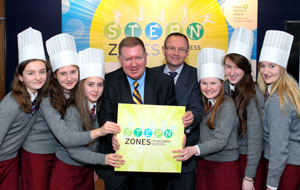 Victoria College, Belfast has won Invest Northern Ireland's 2012 Step 'N' Zones Competition, with a business idea for a cookery school 'Munchers Makery'.
The competition, which was held during Global Entrepreneurship Week (12-18 November), attracted over 1,100 pupils from 48 schools across Northern Ireland.
Bill Scott, Invest NI's Executive Director of Regional Business said: "This is the second year we have run this competition as part of Enterprise Week and yet again we have been very impressed by the enthusiasm and creativity of the pupils that took part.
"Entrepreneurship is vital to the future of our economy so it important that we inspire our young people and provide them with the knowledge and confidence they need to pursue their ambition. The Step 'N' Zones competition is a great way to introduce young people to the idea of entrepreneurship and to help them develop skills such as communication, negotiation and creative thinking."
The competition challenged the pupils to develop a business idea through a series of zones which helped them with idea generation, planning, costing and branding. The winning team, 'Strive' from Victoria College, Belfast, developed an idea for a cookery school for underprivileged children and carers. The judges were particularly impressed with the team's presentation skills, attention to detail and sales strategy.
Ernie Thompson, Co-ordinator at the school, said: "I'm delighted that our school has been successful in this competition. I was particularly pleased with how the event motivated my students to use their hobbies and passions to develop their ideas. The event highlighted many of the key elements young entrepreneurs need to consider when starting a business and succeeding in such a highly competitive environment will be a massive boost to our students' self confidence."
The school will receive the top prize of £1,000 and £100 high street vouchers for each member of the winning team.
Rathfriland High School, Co. Down with 'Farm Beds', an automatic bed maker for farm animals, and Lumen Christi College, Co. Londonderry, with 'Pair Repairs', a repair kit for GAA and cricket gloves were runners-up in the competition.