Business leaders celebrate successful completion of Leadership Team Programme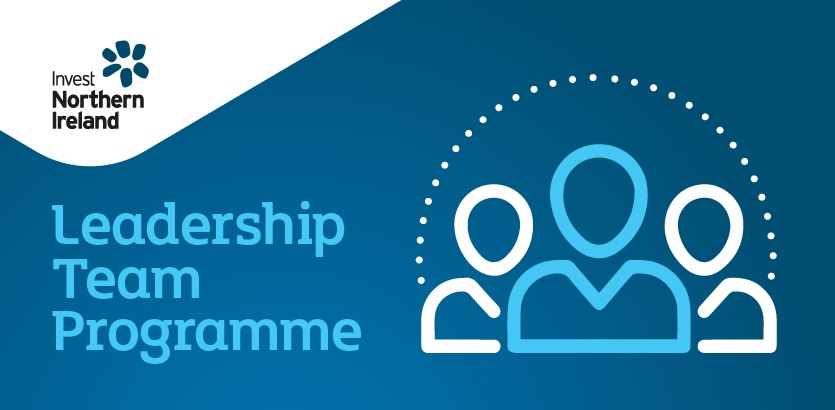 The Invest Northern Ireland Leadership Team Programme has now been running successfully for four years.
It is delivered in partnership with Dublin City University Business School (DCU), and Wilson Sloan Consulting. To date 36 top teams (108 leaders) have participated with another 24 teams just getting started for 2017/18.
In the current uncertain political and economic environment post Article 50 business leaders will need to be at the top of their game to deal with the changing circumstances for doing business. Well skilled leaders will be better placed to steer their companies through the new dispensation.
The key objective of the programme is to help companies identify and achieve their ambitions for growth through the development of effective strategic leadership, culture, business improvement and development.
Thursday 04 May signalled a key day for the group on the 2016/17 Programme. 15 top teams from across a range of companies arrived into the prestigious surroundings of the Belfast Harbour Commissioners to celebrate successfully completing the challenging ten month programme and also to present their future plans for growth.
This group started their journey on the Programme back in September 2016 and over the subsequent months each team of three engaged in nine 'thought provoking' practical Executive Education workshops led by DCU on topics ranging from Strategy to Transformational Leadership & Culture, Talent Development, Top Team Dynamics to International Sales & Marketing.
The teams maximised the impact of these learnings and discussions from these workshops by working with a specialist business coach from Wilson Sloan Consulting to help them tailor the learning relevant for their business and take practical actions along the way.
Leadership Programme Case Studies
The culmination of the programme was the creation of a visual display board to reflect their journey over the past year and identify where they were heading next. The standard of posters was exceptionally high, indicating a high number of frustrated artists wanting to break free and showcase their talents or a wider number of secretly competitive individuals focused on winning the prize for best overall design.
The morning started in a flurry with teams, comprised from a mix of CEO's, Managing Directors, Sales Directors, Finance Directors, HR Directions, Marketing Directors, Operations Directors, Business Development and Technical Directors all trying to find a good spot to showcase their masterpiece.
The event was opened with a welcome address by Invest NI chairman Mark Ennis, who spoke of his own leadership insights and reinforced the importance of strong effective leadership to enable Northern Ireland businesses to compete in global markets, building and sustaining meaningful business growth.
The spirit of the event was informal and collaborative, with team members circulating around the room in a 'knowledge bazaar' effect questioning other teams on their learning while also sharing experiences and drawing key connections. We had a wide variety of designs on offer from spaceships and bumpy roads, to 3D holograms and submarines, all providing honest insights into organisations, teams and challenges along with windows into many impressive opportunities that will propel so many of them into the next phase of growth.
After nearly two hours of swapping stories and discussing the display boards while also planning future connections as new alumni of LTP graduates group, the teams then took their seats to hear from inspirational guest speaker CEO of Lightsource Nick Boyle.
Nick, a local business man from North Antrim but now residing in London has effectively grown his company Lightsource to the impressive standing as Europe leading Solar Energy provider. Nick spoke openly and honestly about both the learning and highlights along the way, stopping to offer bites of advice such as calculated risk taking and the value of investing in talent/culture to enable the growth you want. His session culminated in a standing ovation and he confidently captured the audience through the Q&A.
The event then drew to a close with a few closing words of congratulations from Paula Wilson, coaching director Wilson Sloan and Invest NI Director of Skills & Strategy Niall Casey. Niall reinforced the commitment of Invest NI to continue to support leadership as an enabler of business growth and gave some insights into the impact of the programme so far.
So that is a wrap for another year and a tired yet motivated looking bunch of leaders happily made their way to the catering stand for some refuelling and all importing networking. As programme manager I feel very proud of everything the group contributed over the year and the achievements they have had to date. I am confident that they will all progress with their future growth ambitions and become stronger organisations as a result.
Further Information
Find out more about the Leadership Team Programme (PDF)