Rising to the COVID-19 challenge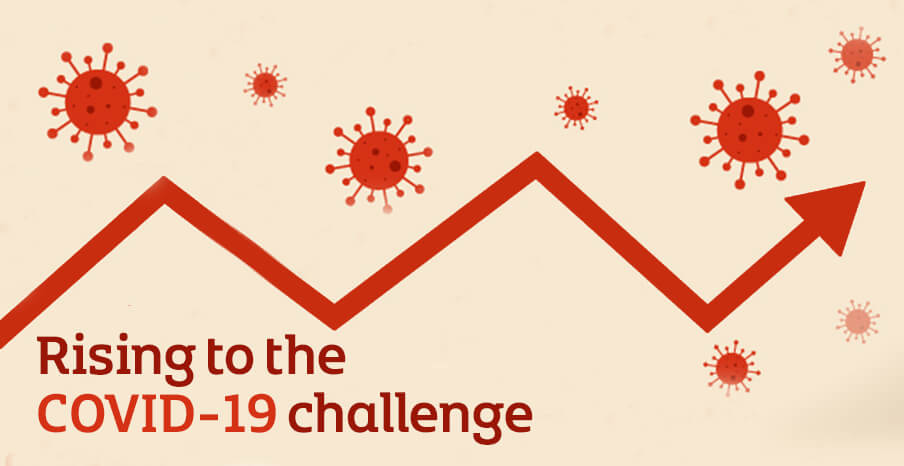 In the first of a two-part feature, we look at how Northern Ireland companies are taking huge steps to help the fight against COVID-19.
COVID-19 has brought both health and economic challenges to nearly every country in the world, along with huge loss of life.
Many businesses have been negatively impacted as trade constricts and non-essential operations have closed. At the same time though, where they can, some companies have waded through unfamiliar territory to switch production to make hand sanitisers, scrubs, facemasks and other vital PPE in an effort to help.
It is inspiring to see Northern Ireland businesses throwing their weight behind the fight and reinventing what they do to not only stay competitive, but importantly to help save lives. We'd like to share some of these stories with you.
Our support to manage the impact of COVID-19
Working closely with the Department of Finance and the Business Services Organisation, we have been helping co-ordinate Northern Ireland's effort in the fight against COVID-19. We have helped to match the experience we know NI companies have with government calls for support to design and manufacture much needed medical equipment and PPE for the NHS and frontline support agencies.
To date we have received over 300 offers from businesses who have expressed interest in supporting the fight against COVID-19, developing prototypes and products for testing to ensure they comply with regulations. Many have gone on to receive orders for PPE, ventilators, testing and sanitiser.
Our Asia Pacific team is also currently supporting The Executive Office in Beijing to source PPE supply in China. On 1st April 2020, Chinese Central government published an official PPE manufacturer list to control quality and our team in Shanghai is working with China Resources to identify and help The NI Executive secure a supply of PPE equipment for frontline staff.
Medical ventilators are vital in the battle against coronavirus
As the battle against COVID-19 intensifies, hospitals across the world are facing a shortage of vital lifesaving ventilators for patients who become critically ill.
In the face of this global shortage the UK Ventilator Challenge was launched and over 50 Northern Ireland companies have expressed an interest in helping to support the drive to build more ventilators for the NHS.
Ramping up production
Armstrong Medical in Coleraine manufactures disposable respiratory breathing systems that connect a patient to the ventilator system.
Last year, we announced our support for Armstrong's £8million investment to grow its manufacturing business. Our support has enabled the company to establish a 26,000ft extension to its current facility for the assembly of disposable respiratory products and ventilator breathing systems.  Due to COVID-19, the company has been overwhelmed with global orders for its products and just in the last month has seen its production output treble. This significant uplift in orders has meant the company has employed over 100 additional staff to help it meet the surge in demand.
In the current situation, our new facility has been invaluable in helping us to rapidly increase the production of life saving respiratory equipment to help us keep up with the unexpected customer demand we are experiencing. Having received a direct call from the Cabinet Office on our abilities and capacity to supply the UK, we realise that our efforts are a critical part of the supply chain which is so vital to winning the current fight. We are also very proud of our staff and would like to express our gratitude to them for putting their all into ensuring that we scale up and meet the demand for our products, which we know are helping to save lives.
John Armstrong, Chairman of Armstrong Medical
North West based Hunter Apparel Solutions specialises in the design, manufacture and aftercare of protective equipment and branded professional clothing. During the COVID-19 crisis, the company is adhering to social distancing measures and has ramped up production of its core products as well as the production of masks, scrubs and decontamination products. It has focused on the GB market and has been supplying its vital PPE equipment to the NHS, Fire Service, Police, MOD, County Councils and Care Homes. 
North West based MPA Recruitment is supplying staff working to the NHS and the broader care sector. These last 2 months have brought a range of fresh challenges to how the company delivers its service, none less than the closure of its offices and the exclusion of face-to-face contact with its clients and candidates. The team at MPA has expanded its use of video technology so that every individual now being placed in work has a video interview with one of its Consultants. MPA's International presence continues to grow with two new contracts signed with major healthcare groups in the Middle East.
Finding a new purpose
Northern Ireland boasts some of the world's most innovative companies and many of these companies are innovating their normal business looking for ingenious ways to help. Invest NI has received over 100 expressions of interest from companies who want to support the manufacturing of vital PPE.
Magherafelt based blind manufacturer, Bloc Blinds has designed and prototyped a faceshield, and collaborated with Mid Ulster District Council to use Meadowbank Sports Arena in Magherafelt as a production facility. Within weeks, the company had produced over 200,000 Bloc Face Shields. The company has since modified the design so it can be produced by high-speed packaging equipment and has partnered with West Belfast based printing firm Huhtamaki. As a partnership, they hope to manufacture an estimated 13 million faceshields for frontline health workers.
Strabane based manufacturer of sportswear, O'Neills has repurposed its business to produce scrubs and protective clothing for medical staff. We linked the company to the Health & Social Care Trust, which helped it win an order to supply hospitals.
Kieran Kennedy, managing director of O'Neill's said:
"We have literally been part of the fabric of local communities the length and breadth of Ireland for the past 102 years and as a company we can think of no better way to play our part in helping to save lives during the current national emergency".
These are just a few examples of how Northern Ireland businesses have rapidly adapted to meet current need. We will continue to work closely with them and others to support government to provide much needed goods and services in support of frontline health services.
If you need help with responding to the impact of COVID-19 on your business, visit our free information website NIBusinessInfo.com for up-to-date information on government support.