Foster launches offshore energy DVD in Kilkeel
21 June, 2013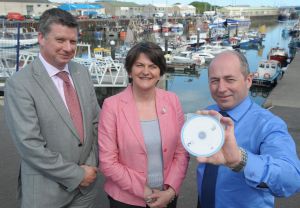 Enterprise Minister Arlene Foster has launched a DVD highlighting the capability of Kilkeel businesses in the offshore energy sector.
Speaking at the launch event at the Nautilus Centre in Kilkeel, Arlene Foster said: "The development of offshore renewables is an excellent opportunity for Northern Ireland in so many ways, including energy security and diversity and climate change mitigation.
"During the last few years, 14 companies in Kilkeel have successfully paved the way for business development through collaboration and demonstrated that they have the skills and expertise to enter new markets. Invest Northern Ireland has supported these businesses through the various stages of development and I would encourage this working relationship to continue."
Significant growth is expected in the UK and European offshore wind markets over the next ten years that will lead to a potential investment in the region in excess of £100 billion.
Arlene Foster said: "Our offshore resources and strategic location puts Northern Ireland in a strong position to compete for the emerging supply chain opportunities and I hope this promotional DVD will boost Kilkeel's profile on the international stage."
The launch event was also attended by Colin Warwick from The Crown Estate, who provided an update on its strategy to help the offshore wind industry achieve its full potential in terms of bringing significant new inward investment, businesses and jobs to the United Kingdom.
The Anglo North Irish Offshore Energy Services also gave details on how the organisation has used the skills and expertise associated with the fishing industry to enter new markets within the offshore wind sector.