WRIGHTBUS GOES FROM STRENGTH TO STRENGTH
23 September, 2004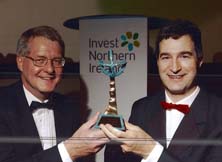 Leslie Morrison, Chief Executive of Invest Northern Ireland paid a visit to The Wright Group's headquarters in Ballymena today to congratulate the company on securing an £11 million order from the Netherlands for 102 left-hand-drive buses.
This new order follows a major contract won earlier this year for the supply of 89 vehicles to Holland and establishes Wrightbus as the largest British bus exporter to the European mainland.

Commenting on the company's success, Leslie Morrison said: "The Wright Group's continuing success in winning contracts reflects the company's focus on innovation and export marketing and has resulted in it becoming a significant player in the key markets of the UK, mainland Europe and North America. I believe that the company's focus on continuous product development will open up further export opportunities and allow it to trade successfully on a global level."

The company's export sales already account for 25% of total Group revenue and with a prototype double-deck bus currently in development for Hong Kong, the company expects its export business to grow from strength to strength.

"We've seen our investment in drawing up in-depth marketing strategies pay dividends in the last few years and we're projecting an increase in output of 35% over the next 12 months. Two-thirds of our order book for the incoming year has already been secured, and we're confident that our European focus will result in a further growth in export sales" said Patrick Hurst, Managing Director.

In addition to recent export orders won, the company's Expotech division exports buses in kit form to the USA for final assembly, with more than 250 units supplied in the last two years.

Earlier this month the company was awarded the Chartered Institute of Marketing Excellence Award NI 2002 and the Market Development Award for best in its category.