Corporate Responsibility
Do the right thing.
Our corporate responsibility (CR) strategy 'Do the right thing' puts responsible business practice at the heart of our decision-making.
The CR strategy concentrates on three main areas:
We believe that our CR activity will help to create a positive workplace that values the talents of our employees and will have a positive impact on the wider community, the environment and on society.
CR benefits our employees by widening their experience or helping them develop new skills through volunteering for specific projects. Through CR we also intend to become an excellent example of good environmental practices.
We work with schools to promote entrepreneurship, innovation and industry leadership, and partner with Business in the Community, Young Enterprise NI, Prince's Business Trust and SENTINUS.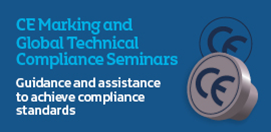 CE Marking Seminars
Stay up-to-date on compliance, European and Global standards