New £2m scheme launched to help SMEs develop business recovery plans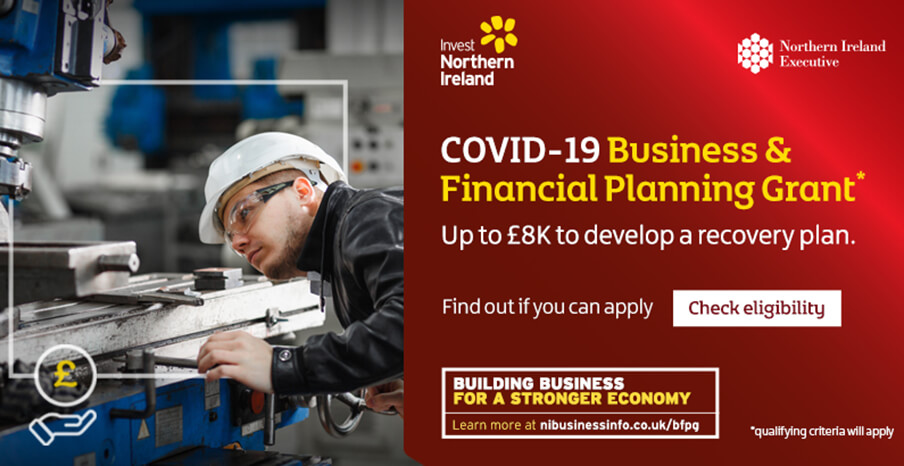 The £2m COVID-19 Business & Financial Planning Grant

will support micro and SME businesses to engage an experienced consultant to carry out a review and health check of the business and develop a strategic recovery plan with financial forecasts.
This is the third of our COVID-19 response schemes and opens for applications today.
About the scheme
The scheme will provide up to £8k to eligible businesses to contribute toward the cost of a consultant to undertake a business and financial review to plan for recovery.
This review will include:
reviewing the current business model

carrying out a comprehensive business health check

determining how to minimise costs and maximise liquidity

identify funding shortfalls and potential sources of funding

develop a strategic recovery plan with financial forecasts
This new scheme is designed to help businesses critically review their business operations […] and help identify weaknesses, risks and opportunities; and then develop robust recovery plans and forecasts for the future.
Kevin Holland, CEO
The grant of a maximum of £8,000 can be used towards 80% of the eligible costs of an external consultant to:
develop a financial and business plan

help you assess your business model

consider options to secure the future of the business

identify how the business will recover and grow in the longer term.
The consultant you use must be on our approved list.
Who is it for?
To be eligible you must be a micro or SME business which is either an existing Invest NI client, or a business operating in one of the following Standard Industrial Classification (SIC) sectors. 
manufacturing

construction

information and communication

professional, scientific and technical activities
Your business must also have an annual turnover of at least £500k, and have experienced a 40% reduction in turnover during the period April-June 2020.
Please review the full details of the scheme and criteria before applying.
This tailored, practical support is one of the best ways we can ensure more businesses not only survive the pressures of COVID-19 but come out the other end stronger.
Kevin Holland, CEO
Applications are now open
Please check if you are eligible before you apply, and read the Guidance Notes for details of what you will need to provide as part of your application.
To access the application form please contact our Business Support Team on 0800 181 4422. Lines are open Monday to Friday, 8.30am to 5.00pm.
The COVID-19 Business & Financial Planning Grant will be issued to eligible businesses on a first-come first-served basis.
The closing date for applications is 5pm on Monday 30 November or when the available budget of £2 million has been fully allocated, whichever is first.
Read more of our COVID-19 response features: